An E-government Readiness Assessment Framework for Ugandan Ministries
Keywords:
E-government, E-readiness assessment, Micro levels, UTAUT
Abstract
E-government has become a trend norm globally for countries to survive economically. Most developed countries have made efforts to make their citizens aware and e-ready to adopt E-government and indeed have successfully reaped voluminous benefits from it. On the contrary, numerous developing countries like Uganda in a scuffle to achieve e-government, have found themselves just copying and pasting e-government projects from developed world without making their citizens e-ready for adoption, hence resulting to massive failure of such projects. Therefore, to reduce this knowledge vacuum, this study aimed at assessing e-government readiness in Ugandan Ministries and specifically proposing an e-government readiness assessment framework (EGRAF) to increase citizens' awareness, e-government readiness hence adoption among other benefits. Using a cross sectional survey design, quantitative data was gathered from purposively sampled technocrats in e-government from the three Ministries of ICT and guidance, Finance planning and economic development and Ministry of Works and transport using a structured questionnaire. Data was analysed using descriptive statistical Analysis with the aid of SPSS Version 21. Findings revealed that the study contributes to existing theoretical and empirical literature by adding an E-government Readiness Assessment framework for assessing the e-readiness in the Ugandan Ministries. This study offers useful implications to all stakeholders in e-government adoption and implementation.
Downloads
Download data is not yet available.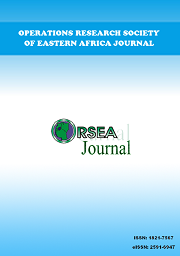 Downloads
How to Cite
Kagoya, S. M. ., & Gilbert, . M. . (2020). An E-government Readiness Assessment Framework for Ugandan Ministries. Operations Research Society of Eastern Africa, 10(1), 43-63. Retrieved from https://orseajournal.udsm.ac.tz/index.php/orsea/article/view/103