Role of qualitative research in preventing customer churn: a case study of mobile network operators in Kenya
Keywords:
Customer Retention, Mobile Network Operators, Churn, ICT and E-business
Abstract
Managers want to utilize E-business applications without taking intoconsideration the human factor that comes as part of implementing any technological system and thus, resulting in unhappy customers. Customer turnover remains a serious problem in the service sector, especially the telecommunications industry. Literature provides evidence that when variables were tested in isolation, they proved to be of significance to the problem. This research used a qualitative research approach to understand different causes of the problem from a holistic approach through investigating the problem from customers' Mobile Network Operators' (MNO) perspective. Data were gathered from secondary and primary sources from MNO managers and customers. Results indicated that causes are complex as well as interlinked and that quantitative data need to be complimented with psychological and cultural investigations to identify customers' traits and habits. The study provides various practical recommendations for MNOs to implement.
Downloads
Download data is not yet available.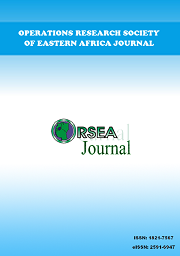 Downloads
How to Cite
Joseph, H., & Sumaya, . K. M. . (2017). Role of qualitative research in preventing customer churn: a case study of mobile network operators in Kenya. Operations Research Society of Eastern Africa, 7(2), 13-27. Retrieved from https://orseajournal.udsm.ac.tz/index.php/orsea/article/view/63