Organizational Citizenship Behaviour as Payback for Fairly Implemented Competency Development Practices
Keywords:
Competency development practices, procedural justice, OCB, Social Exchange Theory, hotel employees
Abstract
This study examined procedural justice as a mediator of the influence of competency development practices on organizational citizenship behaviour (OCB). The cross-sectional survey research design was employed to collect data from a sample of 421 hotel employees in Tanzania. The results from the Structural Equation Modelling (SEM) provide evidence for statistically significant direct effects of both competency development practices and procedural justice on the OCB dimensions. The results also indicate that procedural justice is a significant partial mediator of the influence of competency development practices on OCB. The findings provide more evidence on the influence of HR practices on OCB using a sample drawn from an African work context in which OCB has been under-researched. The findings imply that consistent and fairly implemented competency development practices may effectively induce employees to exhibit OCB. To promote employees' OCB, which is a necessary condition for delivery of service quality and increased customer satisfaction, it is recommended that managers should adopt HR practices that provide employees with opportunities to develop their competences and create positive perceptions of fairness.
Downloads
Download data is not yet available.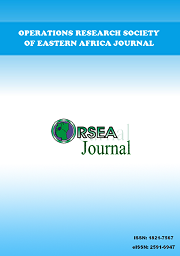 Downloads
How to Cite
Sanga, J. J. . (2019). Organizational Citizenship Behaviour as Payback for Fairly Implemented Competency Development Practices. Operations Research Society of Eastern Africa, 9, 72-89. Retrieved from https://orseajournal.udsm.ac.tz/index.php/orsea/article/view/99